Arizona Smoke Free Living
Smoke Free Arizona & Healthy Arizona Worksites Program
SMOKE-FREE

It has been three years since the AMA partnered with Maricopa County to launch its statewide smoke-free program for the apartment industry. Using tobacco-cessation funding, the AMA is contracted to provide education and assistance to apartment owners, developers and managers regarding the dangers and health risks of smoking and the cost savings of going smoke-free.

HAWP

The AMA has partnered with the Healthy Arizona Worksites Program (HAWP) to provide free training, tools and resources to help management companies and businesses support employee health and wellness.

For more information on HAWP and to register for an upcoming HAWP 101 workshop click HERE!
Interested in learning more? Contact Sharon Hosfeld at the AMA by email​ at shosfeld@azmultihousing.org or by phone at ​(602) 296-6214.
---
AMA PROUDLY ACCEPTS NAA AFFILIATE COMMUNITY SERVICE AWARD AT THE 2018 NAA CONFERENCE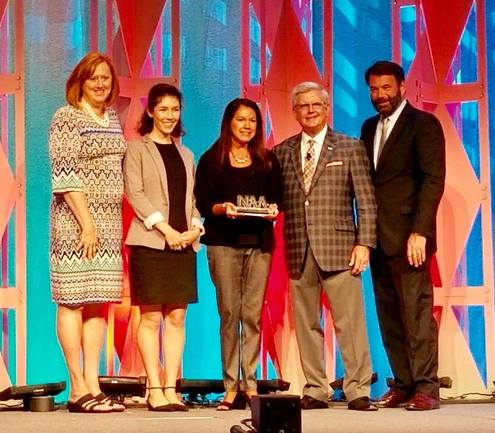 In 2017, 10 properties with a total of 1,911 apartment homes adopted a smoke-free policy, bringing the total of smoke-free Arizona Multihousing Association (AMA) member properties to 58 since the inception of the AMA's Smoke-Free program several years ago.
The AMA's Smoke-Free program is a part of a larger partnership of state-wide and local government agencies, nonprofits and businesses called the Smoke-Free Living Coalition, created to bolster smoke-free living in Arizona. The AMA is grateful for the volunteers that make the program successful, including attorneys who speak on the benefits and legal processes of going smoke-free; property management leaders who speak on transitioning to smoke-free; and associate member insurance companies who offer property insurance premium discounts to smoke-free properties. The program continues to strengthen and evolve and has become a model for other state apartment associations interested in promoting smoke-free policies to their member properties.
​Benefits of going smoke-free include reduced resident turnover and complaints, turnover repair costs, fire risk, fire damage and second-hand smoke and fewer second-hand smoke lawsuits.
---
Ready to Go Smoke Free?
Not Sure Where to Start?
Contact the AMA's Smoke-free Coordinator Sharon Hosfeld shosfeld@azmultihousing.org
Click on the images below to see how you can start saving money and increasing your properties' profitability today!
---