Why Join the AMA?
The AMA is the fourth largest trade association in Arizona and the fifth largest affiliate of the National Apartment Association. We are the voice at the legislature for our industry and work tirelessly advocating in legal and regulatory matters. Simply put, we are the place to be for management companies, independent rental owners, and vendors supporting the industry. When you join our membership, you will receive a plethora of benefits that will help you grow your business, increase productivity and profitability, and form the relationships you need to take your business to the next level.
Some highlights are:
LEGISLATIVE ADVOCACY – A primary focus of the AMA is protecting the rights of our members. At the city, county, state, and federal levels of government, we advocate on your behalf to ensure the AMA voice is heard.
EDUCATION – The AMA offers a robust calendar of education classes year-round, providing members opportunities to receive continuing education credits along with nationally recognized designation certifications (CAM, CAPS & NALP). From NALP leasing training to CPR and First Aid Certification, we have classes catered to your needs.
NETWORKING – Through the AMA's annual events, including trade shows, dinner meetings, and golf tournaments, there are multiple opportunities for you to cultivate relationships with industry leaders and decision makers. In addition, you will have the opportunity to participate as a volunteer on the AMA's committees, which will transform you from "just a salesperson" to a valued industry ally and leader working side-by-side with other industry leaders.
MARKETING – You will get premier industry exposure by taking advantage of the myriad advertising and marketing opportunities the AMA has to offer:
Publications

–

Receive reduced rates to advertise in

At A Glance

, our annual print and digital publication sent to all members, and

Apartment News

, our bi-monthly digital publication.

Website – Get a free listing on the website in the vendor directory under a category of your choosing & advertise on high-trafficked pages on the AMA website through banner ads.

Membership List – You can target your marketing campaign by purchasing the AMA's membership list!

Sponsorship Opportunities – You can reach new levels of industry visibility and gain a competitive advantage by sponsoring AMA events and education classes.
Learn more about available sponsorships
JOB BOARD – You can utilize the AMA's Career Center at a discounted price to post resumes and search for candidates on a career site uniquely dedicated to the Arizona apartment industry. And catered toward your business needs.
CURRENT LEASE FORMS – A panel of AMA attorneys developed over 40 AMA approved fillable and non-fillable forms, including applications, leases, notices and addendums, that you can access and download for FREE. In addition, you'll get access to the National Apartment Association's Click & Lease, the industry standard lease form.
COMMUNITY INVOLVEMENT – You will have a multitude of opportunities to get involved in supporting and giving back to local and statewide Arizona apartment communities, neighborhoods, and charities. Did you know, the AMA has raised more than $1 million to benefit at-risk families and children in Arizona?
Learn more about our committees
Learn more about AMA Giving LEARN MORE ABOUT COMMUNITY OUTREACH PROGRAMS
INSURANCE PROGRAMS – The AMA offers its members discounted member rates on Crest's Property & Casualty Insurance Program and premium discounts of up to 7% available for Smoke-Free properties.
INFORMATION & COMMUNICATIONS – The AMA keeps its members informed! Receive your industry news—ranging from legislative information to market research & industry trend analyses—and keep up with what's happening at the AMA including upcoming events and education classes through the following AMA communications channels:
The

Apartment News

bi-monthly digital magazines and

At A Glance

annual print and digital publication

Weekly AMA email newsletters, daily social media posts, & website
MORE BENEFITS
The Code of Conduct requirements for all AMA members, both Regular and Associates.

The National Apartment Association membership included with the AMA membership fee.

Free legal assistance via phone and email from member attorneys.

Authorized to use the AMA logos including the "Members Using Members" logo on business

cards, in advertisements, and in other marketing materials.

Bonus: A portion of dues may be tax deductible!
Support the industry that supports your company!
---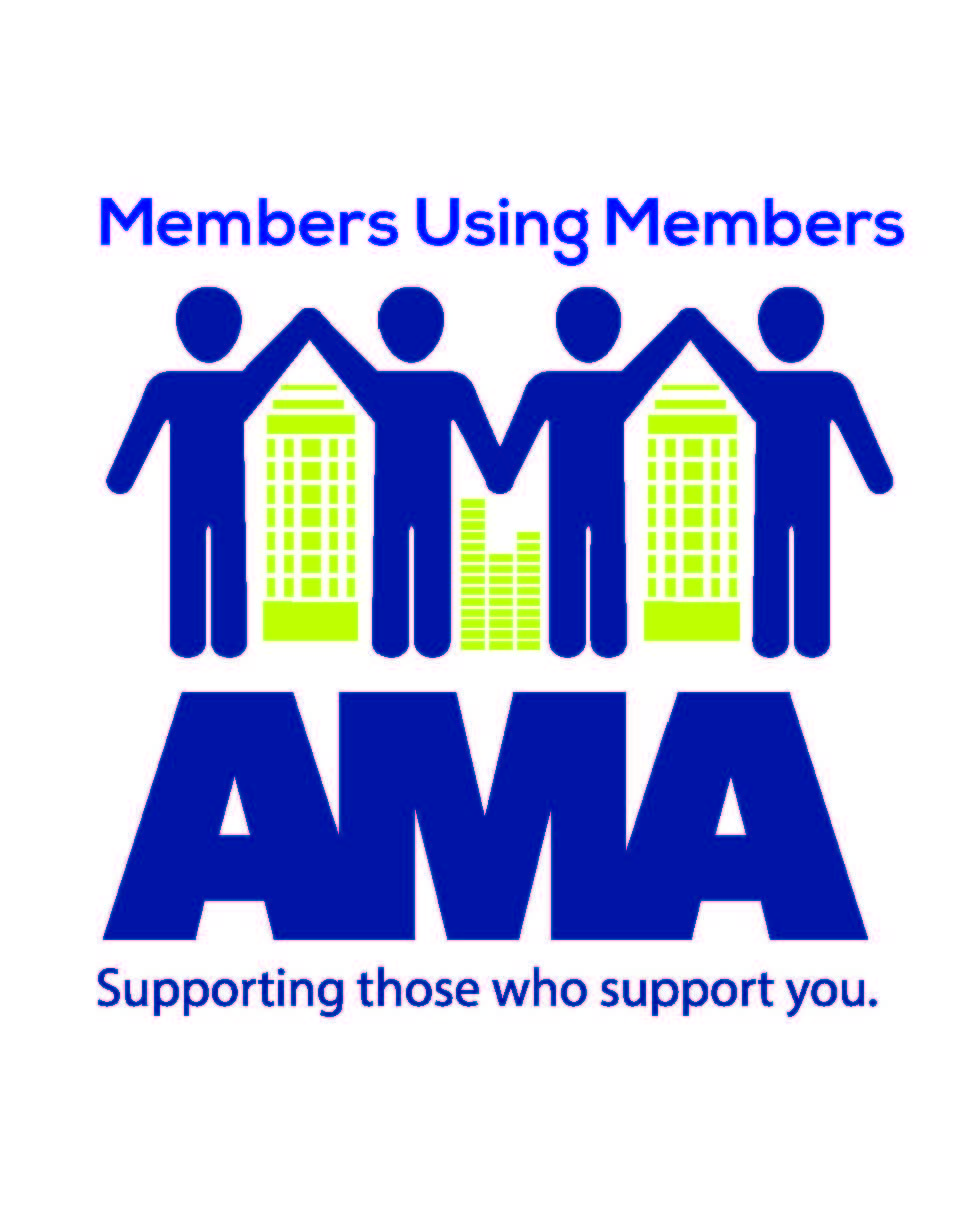 Members Using Members
For Regular Members: Through our vendor directory, you have a list at your fingertips of industry-specific vendors to call to help you solve your problem.
For Associate Members: "Members Using Members" means you are promoted through AMA communications to regular members, AMA materials that are sent to new members, the AMA vendor directory, and phone calls with regular members looking for particular services or products. It is always about pointing to the vendor directory to make a "MUM" connection!