AMA Honored With 2022 NAA Excellence Award
Arizona Multihousing Association honored with 2022 NAA Excellence Award
PHOENIX, ARIZ. (July 14, 2022) – The National Apartment Association (NAA) has announced the Arizona Multihousing Association (AMA) as a 2022 NAA Excellence Awards winner.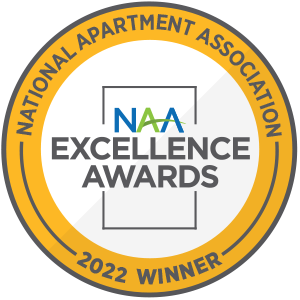 AMA won the 2022 NAA Excellence Award in the Affiliate of the Year (State/Metro-32 category). NAA's annual Excellence Awards program recognizes outstanding performance and leadership across the rental housing industry – celebrating builders, industry professionals and affiliated apartment associations that make unique contributions to the industry.
"NAA extends congratulations to Arizona Multihousing Association for being selected as a winner of this year's NAA Excellence Awards," said Bob Pinnegar, NAA President and CEO. "Throughout the past year, Arizona Multihousing Association went above and beyond to create a lasting and meaningful impact on our industry. Your award emphasizes our sincere appreciation for all that you do."
Founded more than 50 years ago, AMA is the statewide trade association for the apartment industry, representing more than 2,300 members in legislative, legal and regulatory matters. The AMA provides services, products, educational programs and networking opportunities to promote ethical, quality rental housing throughout Arizona.
"This honor is a reflection of the resiliency and exemplary collaboration that have come together to define our incredible organization this past year," said AMA President and CEO Courtney LeVinus. "Our members are the backbone of the apartment industry in Arizona. I'm proud to acknowledge that every one of them share in this honor."
The AMA was also honored to be recognized along with our members at this year's NAA conference, Apartmentalize:

About NAA
The National Apartment Association (NAA) serves as the leading voice and preeminent resource through advocacy, education, and collaboration on behalf of the rental housing industry. As a federation of 141 state, local and global affiliates, NAA encompasses over 92,000 members representing more than 11 million apartment homes globally. NAA believes that rental housing is a valuable partner in every community that emphasizes integrity, accountability, collaboration, community responsibility, inclusivity and innovation. To learn more, visit www.naahq.org. NAA thanks its strategic partners Lowe's Pro Supply, Yardi and The Home Depot.