Back to Events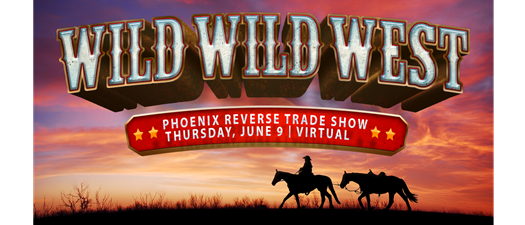 2022 Phoenix Reverse Trade Show
Thursday, June 9, 2022
9:00 AM - 12:30 PM (Arizona Time)
All interviews will be virtual. A link for each interview will be provided in the confirmation email. We recommend you create calendar reminders for each of your interviews with each link.
Event Details

Thursday, June 9 | 9am - 12:30pm | Virtual
As one of AMA's Signature Events, Reverse Trade Show is not to be missed!  Held just in time for budget season, this event gives Industry Partners one-on-one time with key decision makers.  The virtual format allows for focused, relevant conversation. 
Industry Partners will choose exactly who they will meet with, and when! When registration opens, you'll just click "register now" and scroll through the list of who is available. Meet with one person or ten - you are in control!
---
How Does It Work?
Pay Per Interview!
Choose WHO and WHEN you want to meet with from each company.
Cost is $150 each, and you can choose 1 or 21 - there is no limit!
Bonus: If your company purchases at least three interviews, you will receive

pre-recorded videos contaning information from participating management companies

, including RFP/bid processes, vendor compliance requirements, who to contact to earn business and more!  *Video interviews will be available and sent after the event on June 24th. 
How many interviews will I get?


As many as you would like! Each interview is $150 and there is no limit to how many you purchase.  
 

When will I know who I'm meeting with?


Immediately! You're in the driver's seat. Not only do you get to the pick the time and company, but you also get to pick exactly who you will meet with from each company.
 

How do I get in touch with the companies that were fully booked when I registered?


The AMA will provide you with a booklet with detailed information for all of the management companies that participated. Additionally, interviews will be recorded with our participating management companies and included for free if you purchase 3 or more interviews. Or, you can purchase the videos for an additional $200 if you purchase less than 3 interviews. 
 

Do I need to have a Zoom account to participate?


No! The zoom link for each interview you purchase will be included with in your confirmation email. Just create a calendar invite for the date and time and save the Zoom link and you're all set!
 

Is virtual really going to be a good experience?


Absolutely! Our Management Companies that participated in our 2021 virtual Reverse Trade Show loved the experience and are excited it is virtual again this year! You can share electronic documents like power points, videos or your company website. You can also participate in our theme—Wild Wild West!  Dress up, have props, or use a virtual background.


Why should I participate in this event? 


Budget season is coming very soon and our management company members are looking for quotes, bids, and RFPs. This is the perfect time to get in the door and a build a relationship with a new company.
---
What Are People Saying About The Virtual Format?
➜ "Having the option to pick the companies to meet with is a huge benefit and cannot thank the AMA enough" – Adam Greco, Burns Pest Elimination
➜ "Reverse Trade Show was fantastic, couldn't ask for a more productive use of our marketing/sales dollars" – Don Bowen, SMS, Inc
➜ "I like the virtual because it opens up for more people to attend & participate since teams are not in the same state and you can help avoid the high cost of traveling and time away from the office.  I really love the virtual for this type of event." – Jules Thetford, The Guarantors
➜ "I preferred this so much better - being virtual." - Kristina Rauscher, PB Bell
➜ "The format was great. Easy to engage and very efficient.  In-person meetings are important, however, I was pleased with how well the virtual meetings went." - Matt Rogers, MEB Management Services
---
Watch the 2021 Video Below
Watch Events Committe Chair, Linda Coburn, talk about the new format and why you are going to love it!
Thank You To Our Title Sponsor

Thank You To Our Diamond Sponsor

Thank You To Our Emerald Sponsor
Thank You To Our Ruby Sponsor
For More Information:
Melissa Lanouette, CMP
Events & Education Manager
Arizona Multihousing Association
(602)296-6205
2022 Participating Management Companies
Asset Living
Avanti Residential
Avenue5 Residential
Baron Property Services
Bella Investment Group
BH Management
Camden Property Trust
Cushman & Wakefield
Goodman Real Estate
Gorman & Company
Greystar Real Estate Partners
IDM Apartments, AZ
Kay-Kay Realty
Mark-Taylor Residential
MC Companies
MEB Management Services
MG Properties
NexMetro
PB Bell
PEM Real Estate Group
Sares Regis
Weidner Apartment Homes