Back to Events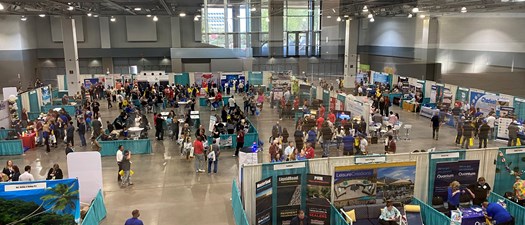 2023 Tucson Education Conference and Trade Show
presented by Zona Law Group
Friday, April 21, 2023
8:00 AM - 4:00 PM (Arizona Time)
Event Details
2023 AMA Tucson
Education Conference & Trade Show
April 21, 2023 | 8:00am - 4:00pm | Tucson Convention Center
Event Details
Join us for AMA Tucson's biggest event of the year! AMA's annual Trade Shows are the Association's largest events of the year and on the "Can't Miss" list of AMA activities. While the highlight is most definitely the over 80 Exhibiting Industry Partner (Vendor) Companies, the themed show also includes giveaways, prizes, networking and lots of fun. 
The AMA Trade Show is an excellent opportunity for Industry Partner Members to showcase their products and services to our Regular Members in a fun and casual atmosphere. Regular Members have the opportunity to hone their skills by attending dynamic education sessions in the morning. 
Event details coming soon!
Registration
Full Day: Includes breakfast, education seminars, lunch, and early access to trade show exhibits at 1pm
$99| Member Early Bird Special
$129| Members after Apr 7th and at the door
$179| Non Members
Exhibits Only: Includes trade show exhibit floor only, beginning at 2pm
$29| Member Early Bird Special
$59| Members after Apr 7th and at the door
$79| Non Members
Registration Information
Registration Opens in 2023
Agenda
April 21
8:00 AM - 9:00 AM

Registration & Breakfast

9:00 AM - 12:00 PM

Education Seminar

12:00 PM - 1:00 PM

Lunch for Full Day Attendees

1:00 PM - 2:00 PM

Exhibit Floor early access for Full Day attendees

2:00 PM - 4:00 PM

Exhibit Floor open to all attendees
For More Information:
Linda Morales
Tucson Area Executive
Arizona Multihousing Association
(520)440-4793
Thank You To Our Sponsors
COVID-19 ALERT: If you have a fever, cough or shortness of breath on the day of the class or event please refrain from attending to prevent the spread of illness as advised by the CDC's website. Please reach out to us at 602-296-6200 within 48 hours of the scheduled class or event so we may accommodate your needs accordingly. Refunds and invoice cancellations will be permitted on a case by case basis.
AMA Policy: Payment in full is due prior to the event. No changes, refunds, or cancellations will be permitted within 10 days of an event for attendee registrations and within 30 days for sponsorships. Dates and prices subject to change. Registrations via e-mail constitutes acknowledgement of terms and conditions.
We reserve the right to limit the number of attendee registrations per member per event based on membership status.