Back to Events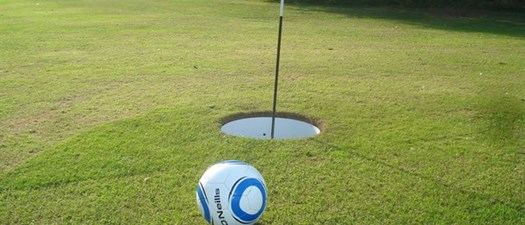 Phoenix Foot Golf
Friday, October 28, 2022
1:00 PM - 5:00 PM (Arizona Time)
Event Details
Foot Golf Tournament
Friday, October 28 | Shalimar Golf Course
Do you feel left out whenever AMA has a golf tournament because you aren't a golfer?  We've got you covered!  Join us for our first Foot Golf Tournament!  It's just what you think – golf with a soccer ball!  Join us with your team of five for a fun-filled day on the course.
FootGolf is a combination of the popular sports of golf and soccer. The game is played with a soccer ball on a golf course with 21-inch diameter cups. The FootGolf holes are on their own greens and does not affect the course for regular golf play. Shalimar's FootGolf course in Tempe, Arizona, has 18 holes built around Shalimar's 9 golf holes. The sport is played in the traditional format, either walking or using a golf cart, and trying to kick the ball into the hole in the least amount of strokes. The rules largely correspond to the rules of golf.
Registration Information
Tickets will be open closer to event!
For More Information:
Jonathan Baldenegro
Events & Education Coordinator
Arizona Multihousing Association
(602)296-6209
COVID-19 ALERT: If you have a fever, cough or shortness of breath on the day of the class or event please refrain from attending to prevent the spread of illness as advised by the CDC's website . 
AMA Policy: No changes, refunds, or cancellations will be permitted within 10 days of an event for attendee registrations and within 30 days for sponsorships. Dates and prices subject to change. Registration via e-mail constitutes acknowledgment of terms and conditions.